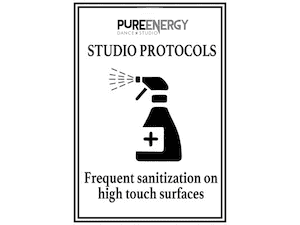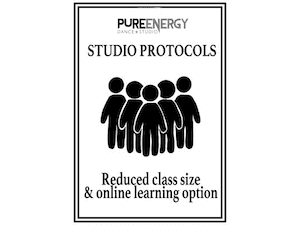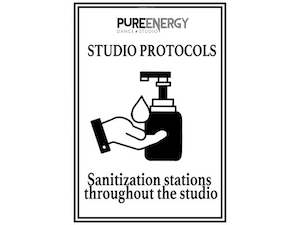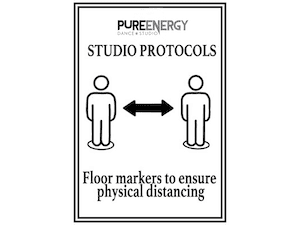 To ensure that our dance studio is safe for all dancers and in compliance with the Ontario COVID-19 Guidelines, we have implemented a list of new policies and procedures to protect our dance family as we reopen.
REGISTRATION
By registering with Pure Energy, you have acknowledged that you understand and fully accept Pure Energy Performance Inc. policies as outlined in this document and on the studio's website.
IN STUDIO AND ONLINE CLASSES
Pure Energy will be planning all dance classes to be in-person for the upcoming 2020-2021 season. We will be limiting class capacity sizes, and working with local public health authorities to implement procedures and guidelines, in order to offer the safest environment for our dancers and their families. Pure Energy's Health and Safety Protocols can be found here https://pure-energydance.com/wp-content/uploads/2020/08/Pure-Energy-Protocols-1.pdf
Pure Energy understands that some families might not yet feel comfortable attending class in-person at the studio. In light of this, we are offering all of our dancers the option of taking classes via an online Zoom class option. This allows a dancer to take class from the comfort of home, however, please note that there will be no class fee adjustment for the online Zoom class option. Class fees remain the same whether classes are running in studio or online via Zoom.
MANDATED STUDIO CLOSURE
In the event that the studio is mandated to shut down by the Government, all regularly scheduled classes will continue to take place through online Zoom classes until we are allowed to open again. We intend to keep the class schedule for 2020-2021 the same as the in studio schedule, with all teachers still teaching their individual classes. If the studio is mandated to shut down during any given month, the classes for that month will be completed through the online Zoom classes with no refund available for that month. If the mandated closure of the studio proceeds to our next monthly payment schedule and you choose not to continue with the online Zoom classes, you must notify the office prior to the 1st of the next month in order to stop payment for the next month. 
All competitive dancers are required to continue taking the online Zoom classes until we are allowed to open again.
COSTUME DEPOSIT FEES
Pure Energy will not collect any costume deposits until the New Year (2021). Costume orders will only be placed in the best interest of our families based on the environment in the late fall. Details will be released as they are available.
COMPETITION ENTRY FEES
Pure Energy will not collect any competition entry fees until the New Year (2021). Details will be released as they are available.
YEAR END RECITAL
We fully intend and hope to produce the Year End Recital for the 2020-2021 dance season. As Government regulations are released we will provide more details on what our year end recital performance will entail. However, Pure Energy reserves the right to cancel this production based on the safety guidelines outlined by the province and local municipalities.
SELF-SCREENING AND WAIVER
Due to the new environment, no person will be allowed in the studio if they are exhibiting or feeling any sort of illness symptoms. You will be responsible for self-screening at home before coming into the studio. You will be required to fill out the COVID-19 symptom screen and waiver for each dancer and Parent or Guardian for dancers 6Yrs & Under before each time they enter the studio. The COVID-19 Health screen and questionnaire should be done no more than 4 hours prior to and at least 1 hour before your scheduled class time. Completion of the waiver is very easy, https://pure-energydance.com/covid-form/
SICKNESS
If a dancer is feeling sick or under the weather, or if anyone in their household is sick, the dancer must stay home for the health and safety of our dance community. 
*Let us know if your dancer is missing class due to this reason and we can send you the ZOOM link so they can take their class at home. 
If a child shows any signs of sickness during an in-person class at the studio, that child will be separated from the rest of the dance class and the parent/guardian will be called to pick up their child immediately.
If any child is required to take certain medications and will be taking in person studio classes, please notify the studio immediately so they are aware of the child's medical needs. In addition, it is important to let the studio know if your child suffers from any anxiety issues and what the anxiety symptoms might look like so that the studio can support the child appropriately.
ARRIVALS AND PICK UPS
In person dance classes at the studio are drop off only for dancers only. Note: Dancers 6 & Under can have ONE Parent/Guardian come in the studio with them. 
Please ensure you arrive for your dance class as per the scheduled class time and not earlier or later than the scheduled class time. 
BREAKS IN BETWEEN CLASS TIME
If a child has a break in between scheduled class times, the child is not permitted to sit in the common areas of the studio, they must be picked up by a parent/guardian at the end of their class and then brought back to the dance studio for the start of their next scheduled class time.
CLASS SCHEDULING
We are scheduling a five-ten minute buffer in between all classes to allow for the disinfecting of studio surfaces before and after each class and for proper pre-screening of students.
FOOD AND DRINK
No food will be permitted in the studio. Students are encouraged to bring full water bottles with them to class. For sanitary reasons, the water fountain will no longer be available to students wishing to refill their water bottles.
DANCE ATTIRE
There will be no access to change rooms, dancers must arrive dressed in dance attire. Students are encouraged to keep personal belongings at home and only bring what is needed for class to dance. For the 2020/2021 dance season, dancers should come to class in the required dress code
FACE MASKS
Face masks are required to be worn upon entering and exiting the studio, in all common areas, going in between studio rooms and when using the bathroom. Dancers will have the option to remove their mask while dancing in studio.
As we open our doors, we thank you in advance for complying with these policies and helping to keep our dance family safe.